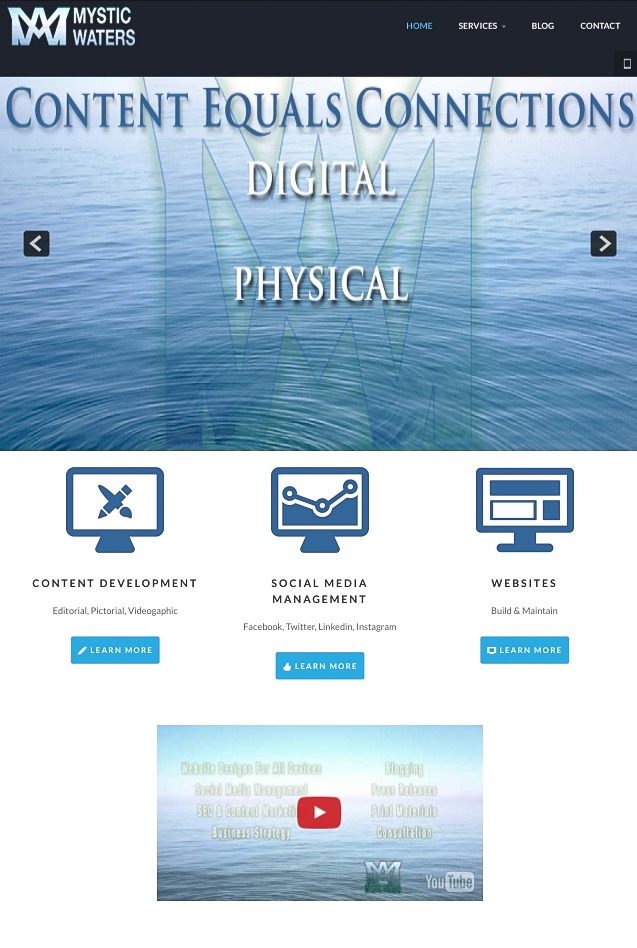 Thanks for stopping to take a look at our new site. We were really eager to get some kind of update out the door for our third anniversary in business. It has been a long time coming and still needs a few issues resolved but it is live now. The site has been streamlined and updated in a number of ways.
The first thing you are likely to notice is the new imagery that has been integrated along side the service messages we have focused the site towards. These elements that accompany offerings such as social media management, website design, content development and public relations will be making their way into our print and promotional materials in addition to the digital placements.
This brings us to our second point. Mystic Waters Media is now more keenly driven to pursue this refined set of client needs. While mostly an issue of siloing what we do into palatable overviews, it is also an effort to establish a stronger identity in the industry of content creation.
Hopefully you find the site easier to navigate and digest. Getting onto a platform the integrated a responsive template was critical. Mobile devices are becoming the primary intake device for many people and we wanted to make sure the site runs natively on whatever device people are visiting it from.
Make sure to check back regularly as we continue update segments and features of the site.